So you have decided to go through with a kitchen remodeling project, good for you! But wait, have you thought about how long it is going to take you? What an actual kitchen renovation will entail? How you are going to avoid damage? If not then you probably need to read on for a more in-depth look at how your kitchen remodel may actually go, just in case you are planning on winging it. Let's hope not.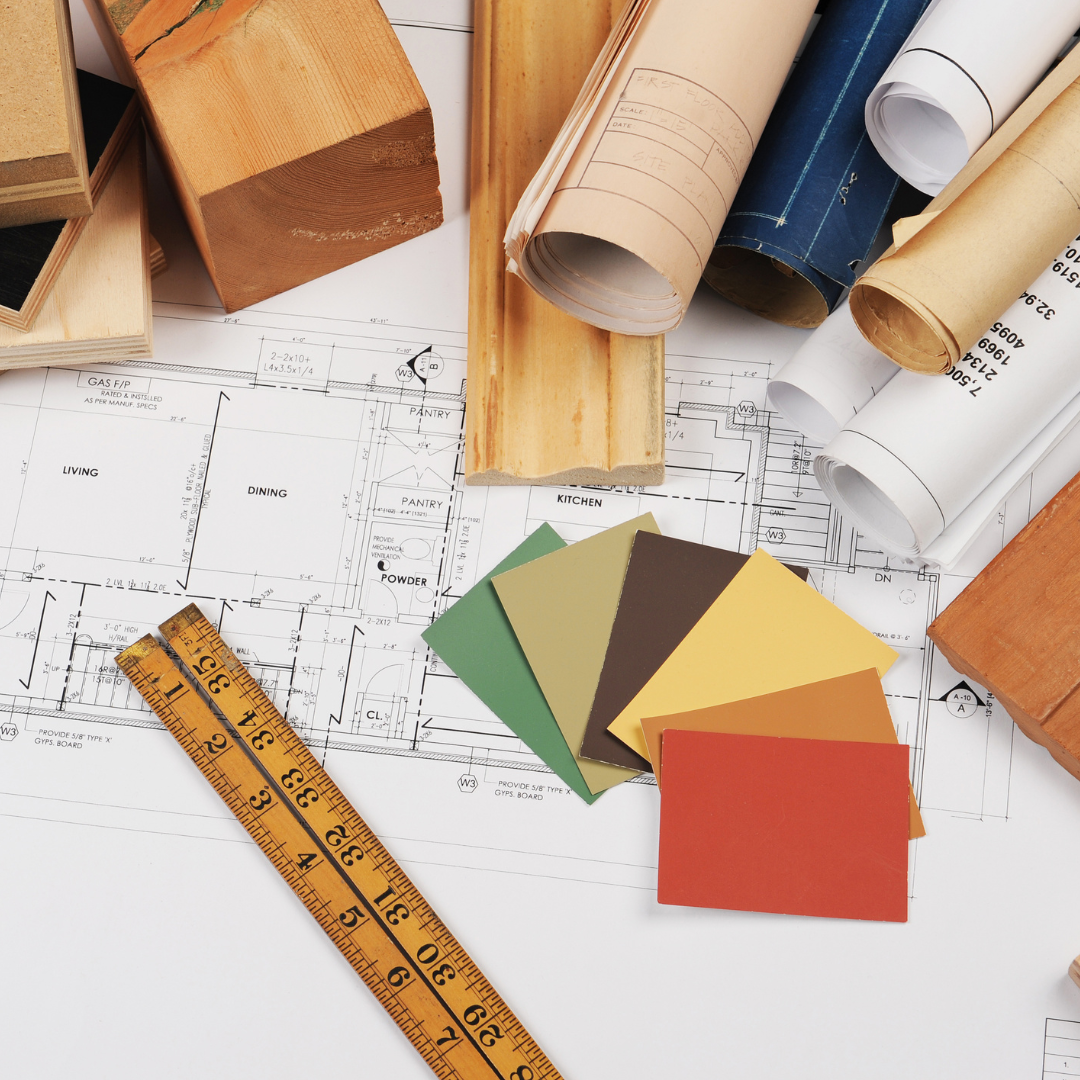 The Design Process
Before you jump in with a sledgehammer and start smashing kitchen cabinets and pulling out the kitchen sink, you need to think about just what you want to be renovated and how you want it to look by the end.
Style
There are numerous kitchen styles that you can base your new kitchen on, and they are grouped into specific design categories for you to delve deeper into so you can pick the exact style you want (with your own unique flare added of course).
Farmhouse
This type of style is for those who love a homey feel in the kitchen, as well as a dash of rustic charm, making anyone who walks in feel like they are in a peaceful cottage in the beautiful countryside, with quiet and comfort.
Neutral colors like eggshell, tan, and cream, with some navy and red accents are a great choice for these types of kitchens. Plaid and gingham fabric prints placed on top of natural wooden countertops and tables, really give it a homegrown feel. A lot of it is neutral to create a calming atmosphere.
Contemporary
Is your dream kitchen something that has an open floor plan with specific neat lines that create a modern and polished look? Then a contemporary kitchen remodel is right up your street.
White, black, and chrome overtake this type of style, producing a clean and sophisticated look for the modern kitchen lover. In this style, you can even go for a handleless kitchen that can make the cabinets and worktops look polished and less cluttered. The look is so clean you can practically see yourself reflected in every surface. Smart built in appliances are definitely part of this new look, making it innovative and as well as minimalistic.
Traditional
You miss the classic look of a kitchen design, that one that brings in the elements of a kitchen you used to remember, not boring in the slightest, but natural and memorable, not a brand new design, but a throwback.
If you are a fan of grays and browns, as well as black and white, you are in for a treat. They are not basic colors if you know how to apply them. It calms a kitchen down without one piece standing out. Finish it with natural wood cabinets, drawers, shelves, and doors, and you've got a kitchen!
The countertops are along the lines of quartz, marble, and granite, with backsplashes that make use of cream shades, khaki, or neutral tiles to pull it together. Timeless and familiar.
French
Wanted to feel like you were in Europe with specific decorative elements that encapsulate a French beach or countryside? Then you may be thrilled to come across a French-styled kitchen look.
Romance is a focal point of this design, the colors are bronzes, russets, deep blue cobalt, and maybe a whisper (or a full shout) of magentas. These would look great on cabinets as well as seat cushions. Gold and copper hardware in a polished or matte tone will go well with the overall design.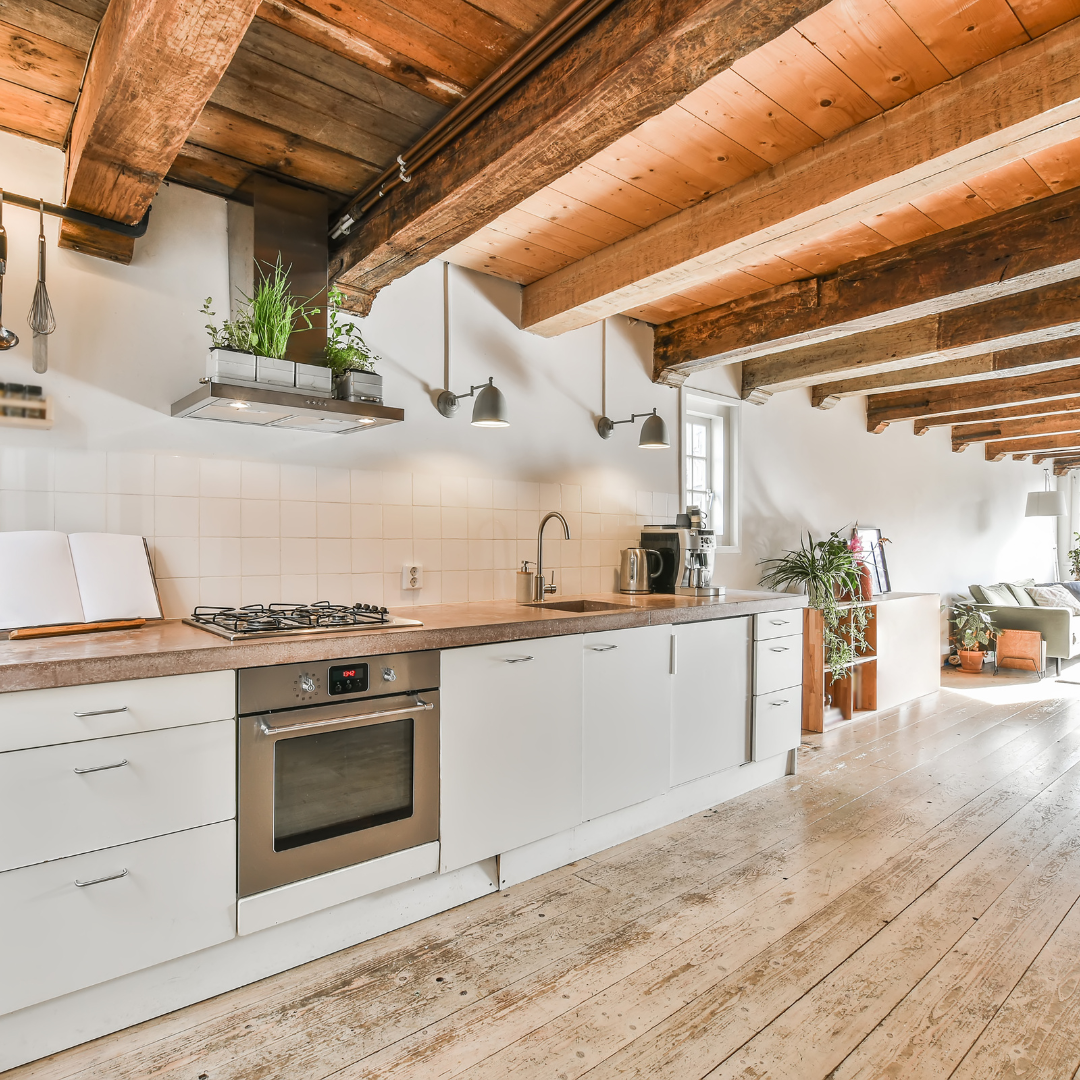 Coastal
Living by the beach is a dream for many who need the peace and serenity of the calm waters and sea air. Even if they can't actually go there, they can recreate that feeling in their kitchen through a coastal look.
The colors that this style of kitchen boasts are calm and soft with pastels that include greens and blues (classic sea colors), with golds and ambers to add a soft shine, like a sunset over an ocean. Wicker is something you will see in this style with chairs and other furniture dotted around the island bar, which is a popular choice with coastal.
Country
Charm and simplicity, are the way to describe a country-style kitchen. People may think it is tied in with the farmhouse style, however, glassdoor cabinetry is a strong choice with this design, it makes the kitchen look open as well as showcases the dinnerware in all its glory.
Hardwood flooring and exposed shelves make this design open and inviting to everyone, nothing is hidden, mirroring the feeling of being outdoors. A farmhouse sink and a classic range stove will be a draw into this kitchen style.
What Layout Should I Choose?
So, now you've read up on some of the styles, there are others that you can dive into if you want to look further, you will want to put that down and think about the next part of the renovation – the layout.
There are different layouts that you can pick from, just like styles, you do have options for what you want to create with your kitchen and how it will ultimately look. If you are ripping everything out and starting from scratch, then you have free choice (depending on the budget), so you may want to browse these layouts below to see which one catches your eye first.
The One-Wall Kitchen
The Galley Kitchen
The L-Shaped Kitchen
The U-Shaped Kitchen
The Island Kitchen
The Peninsula Kitchen
These can be looked at in greater detail on websites such as Grundig, which lays out what details these have and how they are completed. If you require detailed information or want expert advice, you can contact a professional on a construction contractor website such as https://generalcontractoratlanta.com/, and get assistance with the whole kitchen remodeling process. Some layout implementations will require a bit more effort than others, but after the installation is done, it will be worth going through the entire kitchen remodel to see the finished result.
How to Make it Your Own
Just because you have picked out a certain style and layout doesn't mean you have to go by the rigid rules of what the design is, you can mix it up and give that unique personal flare.
If you want to paint your door hinges the same as your cupboards and cabinets then why not? Feel like installing two different types of countertops for a varied look? Go for it. Kitchen curtains? Yes! At the end of it all, this is your kitchen, your home, and your renovation, you get to make the final decisions (no matter what the contractors may say).
Creating a Dream Kitchen Board
To get everything together and make it into something visual that you can hand over to a designer and/or contractor, you may want to make a dream kitchen board that has the styles on, the color palette you want, and what appliances you were thinking of getting.
You can look in home design magazines and cut them out by hand to make a physical dream board, or you may want to go online to create a digital one that you can send over to the necessary parties involved to give them something to go off when you are putting the plans into place.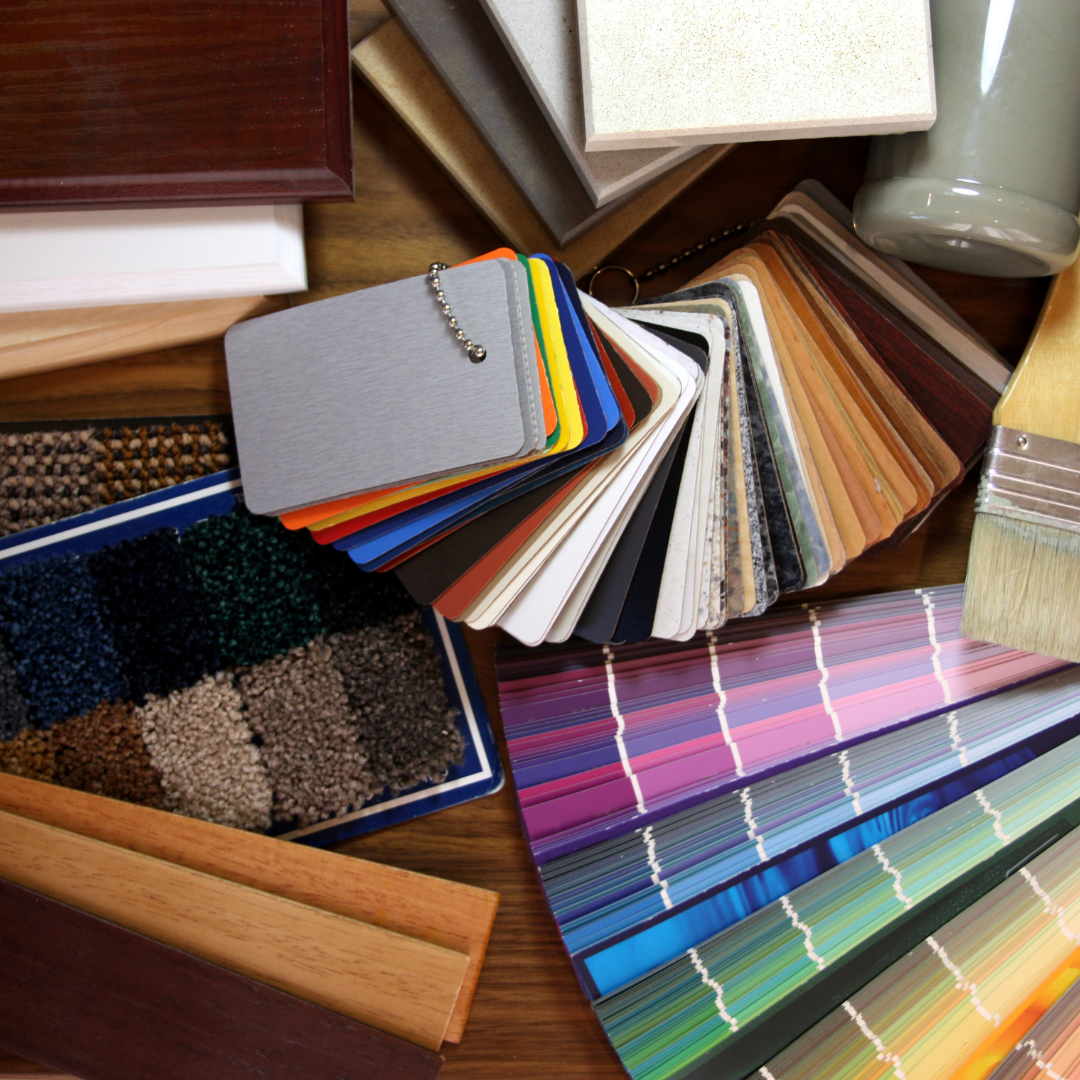 Do You Need to Purchase New Items?
You may decide that you need new appliances to complete the look of your new kitchen renovation, maybe you want a new coffee machine to put on your countertop, or cooling drawers for a new take on food storage.
If you do, then you will need to look around and find ones that offer not only a great deal but suit your kitchen look without standing out or looking gaudy. If you have a larger space, you'll be able to fit a few more appliances in that you really want. Here are some items to consider –
Panel Ready Fridge Freezers
These appliances are classed as sleek and stylish as they blend into their surroundings and are used for a modern look within the kitchen. They can be made to be flush with your cabinetry so they do not stick out. They can also be made with custom panels that blend in with your kitchen design, so you can have the doors match your base cabinets or even your countertops, the design is up to you.
Dishwashers
Yes, the dishwasher is here to stay, and whilst some people do not like them as they feel like they don't clean well enough, the right style and model can make all the difference, just make sure all the pipes are connected and double check that when the plumbing is completed, there are no loose screws or fixtures as this can lead to a water wall of mess.
Range Cookers
These cookers make things less time consuming and can be wonderful for people on the go, plus you can get different styles that fit in with your theme at different sizes. You'll definitely want one to be installed no matter what kitchen design you land on.
The Impact of an Appliance
Your kitchen renovation project needs appliances. If you have gone through the trouble of completely renovating your kitchen, setting up a construction schedule, and looking up how to remove kitchen cabinets (you didn't want to wait), then you want the appliances to pull it all together and make it look finished.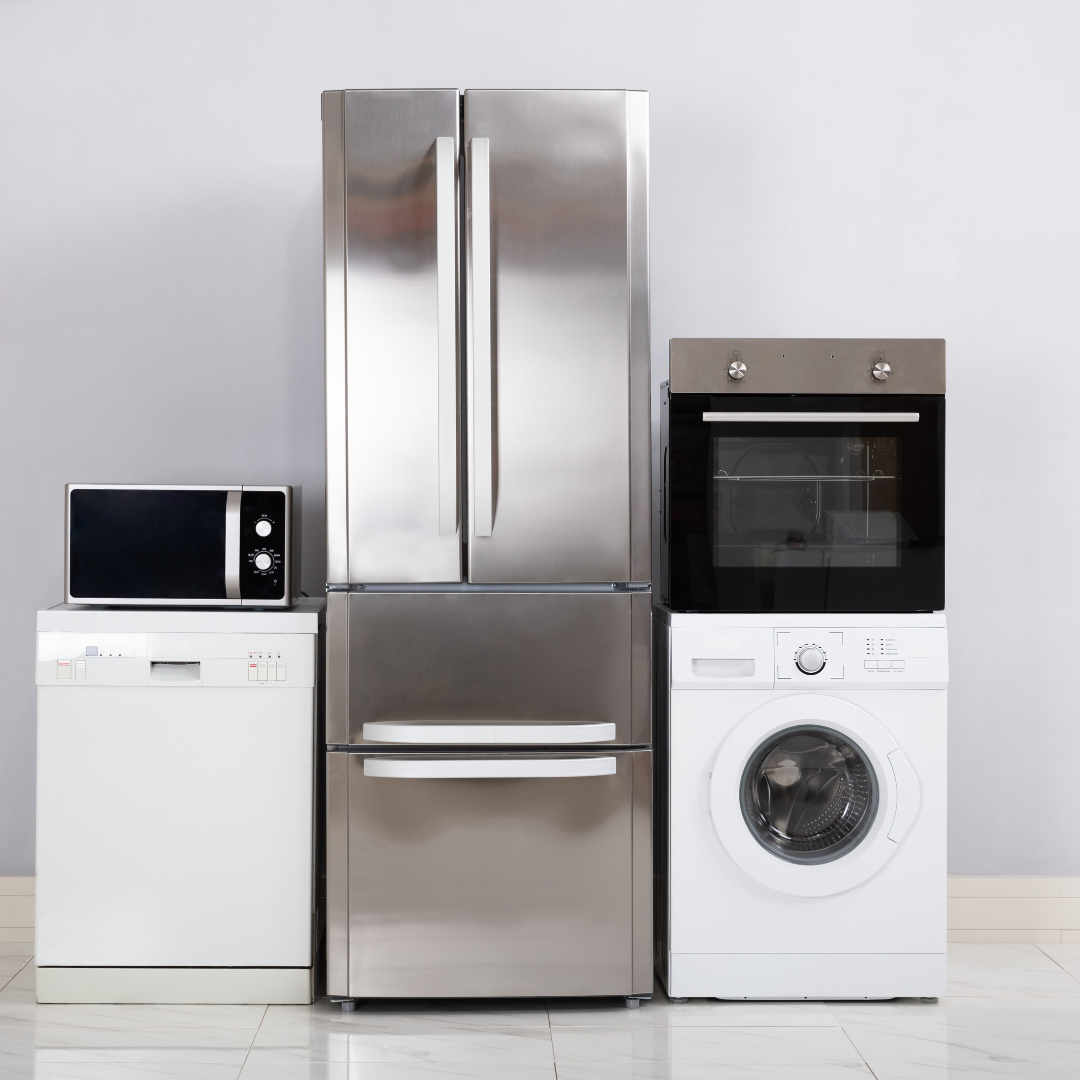 Timeline
Finally, we have ended up at the timeline! Despite the fact that this is important, anyone who is remodeling their kitchen needs to really think about what they want and how they are going to do it, as it all adds to the time span and process.
Planning
Your planning stages (above) will take as long as they need to, you are the decider on that one. You may be happy with one look one day and then decide against it the next. The key is to actually make a decision. If you are going back and forth on a design, scrap it and move on to the next one. If you give yourself a deadline to decide this could help speed up the process.
Finding a Contractor
Style and layout firmly in place, it is now time to find the people to do it. You will need to look into reviews, referrals, and costs of some reputed firms such as Ware Designs. As well, you may need to set up meetings with those you have whittled it down to. Through this, you can have a fair idea of what kind of kitchen renovation contractor they are and how they will handle your home renovation projects.
Sourcing the Products
You will need to order your materials and appliances in advance to ensure that they come at the correct time, as well as leaving some room for those that may get delayed due to shipping errors or low stock. Plus, if anything comes broken like a cabinet door or flooring, you have enough time to send it back and get replacements.
Demolition
Now is the time for the kitchen to be completely gutted and ready for it to be demolished by the renovation team, or you if you are doing some of it. This process will vary on time, as if it is just taking out cabinets or a kitchen island, then it won't be long, however, if it is the entire kitchen with electrical wiring and water pipes to be considered, then that could lead to weeks as they carefully navigate through this to ensure the structure stays complete. Before this is done, you may have to make other considerations, such as whether you need scaffolding (check https://burflex.co.uk/ for some research) to hold up the structure during renovation and costs associated with it too.
Putting in the New Layout
Once everything that needs to be taken out has been done, it is time for the installation. Putting in kitchen cabinets, a cabinet wall, a new sink, fresh countertops, and flooring, the list can be endless. This will also vary on time, some can be installed in a day like cabinets, whilst others like flooring and tiles will take longer, potentially up to a week or more, this will depend on the layout of your house and how large the kitchen is.
Trimmings and Painting
The finishing touches to the main part of the kitchen will need to be done only after everything has been installed, doing it in between installations is not a good idea as they can be knocked loose or the painting can get chipped with a misplaced move of a door frame. The painting of the walls and trimmings should take a few days to get it all sorted, this will be the wind-down time.
Light Installation
If you are changing your lighting, then you will have a map of where you want the new ones to be, it could just be from the ceiling or placed under your countertops, the choice is yours. This shouldn't take too long, maybe an average of 2 days.
Finishing Touches
Now is the time to add in the appliances, as well as put back in your utensils, pots and pans, and any other little thing you want to decorate your kitchen with after it has been completed.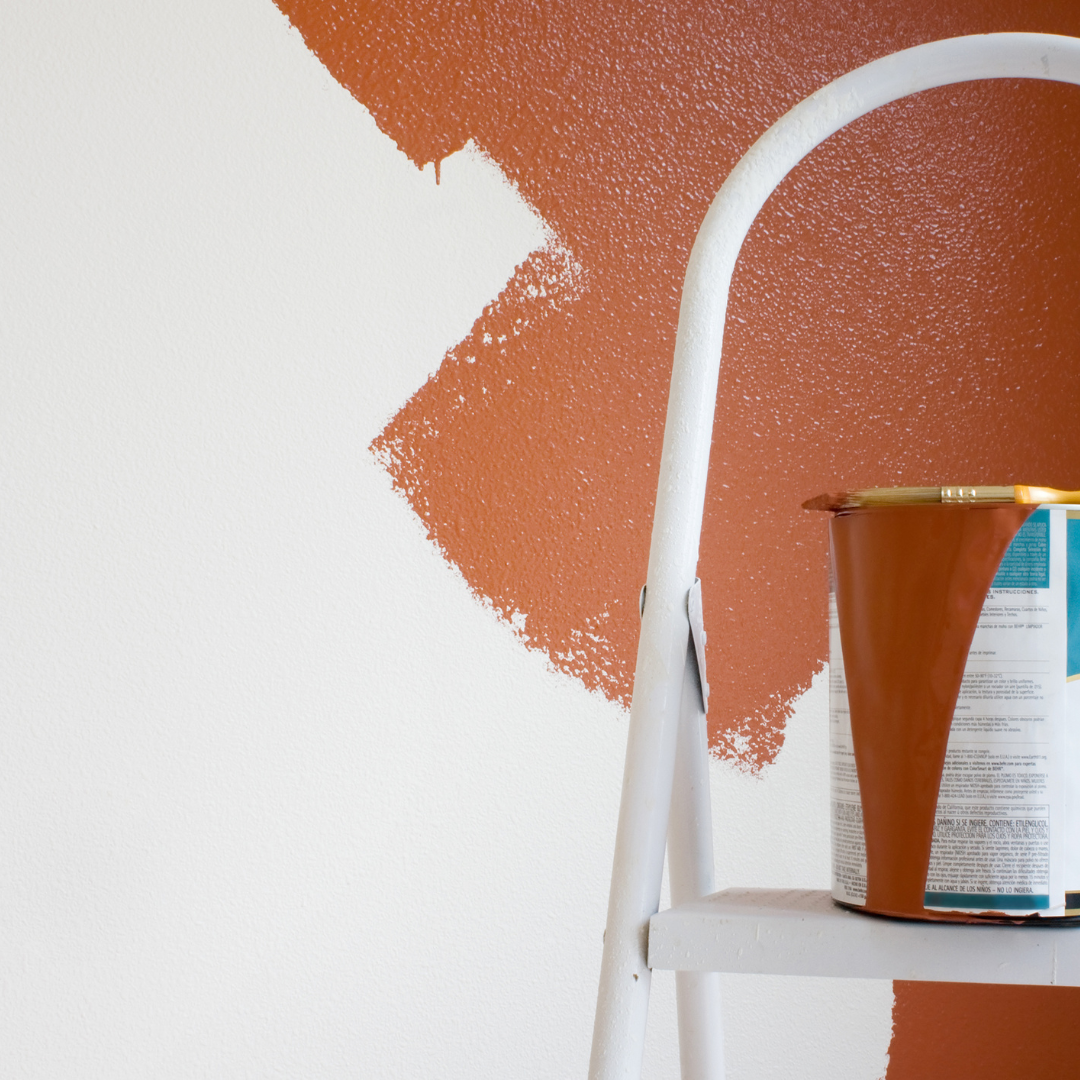 Timing Sum-up
Going off websites such as Smart Remodeling which breaks down how long, on average, they think it will take each section of your kitchen renovation. You can see what you will be up against as you renovate.
The design process – 1 to 4 weeks
Sourcing for products – 1 to 2 months
Demolition and structural changes – 3 days to 3 months
New kitchen layout – 2 days to 2 weeks
Paintings and trim – 2 to 3 days
Floor and cabinet installation – 2 to 3 days & 2 to 4 days
Lightning installation – 2 days
Countertops – 5 to 28 days
Backsplash – 1 to 2 days (dependent on materials)
These are just ballpark figures that they have come up with, but it may help give you an all-around look at what you could be expecting during this time.
Time Issues
With any renovation project, there will be ups and downs. Things can get delayed, and weather can play a massive part, potentially raining off a construction day, so these have to be thought of beforehand and understood. You do not want to get stressed about what could happen, you need to enjoy the fact that you are finally getting the kitchen renovation that you have been waiting for.